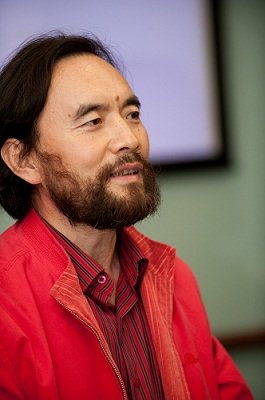 Love and wisdom is the premise of the success in life
Xuemo
Twenty years ago I was making a choice of my life. I had three choices at that time. The first choice: to be a good farmer like my father. But you know, I was a terrible son in my father eyes when I was young. Why? I couldn't do any farm work, because my nose bleeds in the sun. It has never happened to any farmers in my hometown. So from that on, I made a hard decision, I wouldn't do any farm work anymore. My father said, how can I have a son like you? He wishes that iron could turn straight into steel. That was my first choice.
My second choice: To be a primary school teacher after graduated from the "normal school".
Third choice: To be a writer. The choice I had made to be a writer that also was my dream in 20 years ago makes me a writer today.
If twenty years ago, I had chosen to become a farmer, I would be a very old farmer today. If I had chosen to be a primary school teacher, I would still be the one. The choice I have made before twenty years led me to this fate and the results. At the same time, the choices you make today will decide your destiny within the two decades. So, I believe making choice is the most important right of our lives. Our Western culture wants to teach everyone, you need to figure out what you are going to do in this world since your childhood.
Harvard University in the United States has had an experiment 20 years ago. They had the children to fill out a survey that reflected all children's goals, some of kids have life time goals and some of them have 10 years goals and the other have no goals. By 20 years past, Harvard researchers interviewed those kids, now they grown up. It was found that the students had the life time goals, who had become the elite of top level in a society, such as Nobel Laureates, president of the United States etc. Those had 10 years or short term goals had become very successful, such as a boss or a board chairman. The kids without goals live in the bottom of the society .Parentally, their choices decide their own fate.
In Western culture "love" is the main meaning for life. There are two kinds of love: great love and the other small love. No matter whether it is the great or small one, both are good. In the west, there are lots of shepherds yells theirs song in the desert ,even though no one was listening, but they still sang intoxicated. Why? Because song is a love which flows out from their inner hearts. He didn't care whether anyone is listening or not, whether anyone buys his tickes and records or not. Singing is the sole purpose. That is the way I write. So, even if you don't know who Xuemo is, I'm not upset about it. I am still confident as I look right now, maybe even arrogant. Why? Because writing is the mainly purpose of my life. I don't care about how many people love to read my books. If you love my books, it is very good; if you don't, it is good as well. Why? I write because I love writing .I wanna say, there is nothing in the world that makes me happier than writing. There is kind of love roaring in my heart, I am so intoxicated of it. And my fingers dance on the keyboard and the whole world is on a carnival. My son can savor the taste of this wonderful feeling too. He said, "Dad, I don't want to go to college. I want to be a writer." I said, "Ok. My son come with me today, you can stand up and let the audience see you."
"Look, he looks silly, no, actually he is very shrewd. Why? He knows that the biggest happiness is to do what you love and enjoy to do in your life time. In life there are two kinds of happiness. One is to do what your love to do in your life. The other is to do what you love to do and it can bring the love, the kindness and the beautiful to the world. To do what he love to do, because of love. Bring the love, kindness and beautiful to this world, still because of love.
I have succeeded because of love. I'll tell you a story. It takes 27 hours on the train from Shanghai and come into Lanzhou, western of China, then goes on an express bus for 4 hours, in a crazy noise of bus motor to Liangzhou and travel along the twisted and narrow path in countryside for about 1 hour. Finally it is my home town. There was a wild kid. The only difference is that this kid has no running nose because he was a clean kid. He had a dream to be writer at that place. He even didn't know there is a shanghai Transportation University. Imagine, he wanted to be a writer and how wild he can be. In the place, even a donkey was so rare at that time. When he looks back from where he came, he think how hard to get today's everything. Kids, no one tells him how to write a novel. Even there was no book at that time. Yes, I had no books when I was a kid. When I grew up, I began to have my own books. At that time he had no kin to turn to, he could not see even a little light of his future. It is almost unbelievable that he could go into the Chinese literary circles to become a writer.
One day, the Liangzhou eminent telling and singing art. There is a story of "Splitting Mountain to Saves His Mother", Er-lang's (a Chinese traditional god) sister (a fairy lady fell in love with a yong man. God and godness are prohibited to have relationship with human beings) They had a child named Chenxiang. This story was later adapted for the "The lotus lamp". Then, Er-lang absolute was in a wild anger, he punished his sister under a mountain. Chenxiang is a child, a human child, but he wanted to save his mother. He had to fight with er-lang god. How diffcult it could be for him, a child, a human child, struggle with er-lang, wanted to fight the Er-lang. For him, this was so difficult , too difficult. Who Er-lang was, was the "Journey to The West" in Er-lang, fiercer than Sun Wukong. At that time, Chenxiang's mother told him, if he wanted to fight a God, he must have two weapons: a weapon is love, another is wisdom.
Remark
The article is translated by volunteers, who are not professionals. During the translation process, some inaccuracies and omissions may occur. We warmly welcome you to give us your advice on translation and to make suggestions for revision. We appreciate your contact with us and we will precede amendment and correction according to your advice.At the same time, we warmly welcome the professional to join our volunteer's team.
Please contact us at suonanzhuoma1988@163.com, thank you.
爱和智慧是人生成功的前提
雪漠
有一天,凉州贤孝中唱《劈山救母》,二郎神的妹妹爱上了人间的青年,他们相爱后生下一个孩子叫沉香。这个故事后来被改编为《宝莲灯》。于是,二郎神大怒,把自己的妹妹压在山下。沉香是一个孩子,一个凡人的孩子。但他却想与二郎神斗争,想战胜二郎神。这对,他来说多么的难,太难了。二郎神是谁呀,就是那个《西游记》上的二郎神,比孙悟空还要厉害。这时,沉香的母亲告诉他,孩子你如果想战胜天神必须拥有二个武器:一个武器是爱,另一个武器是智慧。
我在二十多年前进行了选择。当时有三个选择。第一个选择:我像父亲那样当一个很好的农民。我告诉大家,小时候,我在父亲的眼里太糟糕了。为什么呢?因为我不会干农活,一到太阳下面就流鼻血。当地的农民是没有这种情况的。于是我痛苦不堪,不愿意做农活。父亲就说,怎么养了你这样一个儿子。他恨铁不成钢。这是第一种选择。第二种选择:从师范毕业后,当一个小学老师。第三种选择:当一个作家。二十多年前想当作家这样一个选择,这样一个梦想,导致了我今天成为了一个作家。要是在二十年前我选择了当一个农民,今天就是一个很苍老的农民。要是二十年前选择了当小学老师,那么今天我就是一个小学老师。二十年前的选择导致了我今天的命运、今天的结果。同样,你们今天的选择决定了二十年后你们的命运。所以,选择是人生中最重要的权利。西部文化就是要告诉大家,很小的时候就要明白你来到这个世界上是要做什么。
美国哈佛大学做过这样一个实验:老师们曾在二十多年前,让孩子们填了一张测验表。表上反映出了有终身目标的是哪些孩子,有十年短期目标的是哪些孩子,没有目标的是哪些孩子。二十年之后,老师们又把这些人招到了哈佛大学,并发现有终身目标的那些孩子成为精英人士,成为精英中的顶尖级精英。比如诺贝尔奖的获得者们,比如美国总统。有短期十年目标的那些孩子,成为社会上的成功人士,比如当了老板、董事长。没有目标的那些孩子,成了社会最底层的市民。可见,他们的选择构成了他们的命运。
西部文化中"爱"是活着的理由,这个爱有两种:一种是大爱,一种是小爱。无论是大爱还是小爱都很好。西部的许多牧羊人,在沙漠里吼出歌声的时候,没有任何人在听。但他们仍然唱得很陶醉。为什么?因为歌声流淌出的是心中的爱。他根本不去管谁在听,是不是有人买门票、买唱片。他的唱就是目的。我的写作也是这样。所以,同学们虽然不知道雪漠是谁,但我根本不沮丧,我仍然显得那样自信,甚至狂妄。为什么呢?因为写作是我活着的理由。我根本不去管有多少人爱我的书。这并不要紧。爱我的书很好,不爱也很好。为什么?因为我写东西是因为爱。告诉大家,世界没有什么东西比写作更叫我快乐的了。你的心中涌动着一种巨大的爱的力量,在这种爱的陶醉中,让指头在键盘上跳舞的时候,整个世界都在狂欢。我的儿子尝到了这种滋味说,爸爸我不要上大学,我要当作家。我说好。今天我的儿子也来了,你站起来让同学们看一看。
瞧,他傻呵呵的,其实很精明。为什么?他知道一个人活着能够做自己喜欢的事,是一种最大的幸福。因为人活着有两种快乐。一个是活着做自己喜欢做的事;一个是自己喜欢做的事,能为这个世界带来善、美。喜欢做自己的事,是因为爱。能为世界带来善美的,仍然是爱。
我的成功就是因为爱。我告诉大家,从上海坐火车走上二十七个小时后,可以到中国西部的兰州。从兰州坐上高速汽车,在汽车的疯狂马达轰叫中,大约四个多小时,可以到达凉州。再从凉州延着乡间的小路,扭呀扭呀,扭上个把小时,可以到达我的家乡,一个小村庄。小村庄里有一个毛头孩子。跟一般毛头孩子不一样的地方是,他很小的时候没有鼻涕,因为我非常干净。他有一个梦想,他根本不知道上海还有个什么交通大学。你们想,他想当作家。在那个地方,连个毛驴都稀罕。他想走到今天的时候,真是难如登天呀!孩子们,没有人告诉他如何写小说,没有人告诉他应该读什么样的书,甚至身边没有书。小时候我没有书,长大之后才有书。现在的书当然很多。我那时候举目无亲,看不到一点儿光明。我觉得自己能走上文坛成为一个作家,简直是不可思议的事情。
声明:本文系志愿者试译,非专业人才翻译,错误定然不少,如出现疏漏及错误,敬请读者见谅。如有任何翻译上的建议及修正意见,欢迎及时与我们取得联系,我们会加以校对、修改,并希望有专业才能的朋友也能加入我们志愿者群体中来。