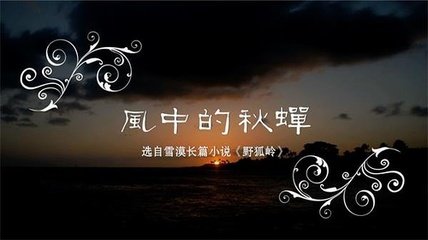 雪漠:风中的秋蝉
文\雪漠 翻译\吴则步
你来的时候正是金秋,
秋风摇动着心中的桂子,
那时的天空到处是彩光,
一若无边无际的希冀。
你去的时候已到冬天,
北国早已是冰天雪地,
大地肥了你却瘦了,
很像那一片焦渴的土地。
我老是想到那年的秋月,
风中总有你的笑语。
你的笑声里其实有沉重,
沉重的还有命运的赌注。
命运真是个沉重的词,
沉重得像那千年的黄土。
你总想弹出你的曲子,
只是无论咋弹,
也弹不出轻盈的旋律。
你就被压在命运的尘土中,
像压在我书中的那只蝴蝶。
寒冷榨干了你的鲜美,
还有你那飞翔的轨迹,
还有空中散溢的花香,
还有一缕梦中的乡土。
只是你走后的日子寂寥,
灰蒙的天空到处是雾霾。
触目可见的灰色里,
写满了那个叫虚无的词。
虚无的词里没有意义,
意义也埋入黄土深处,
萧瑟总是在命运中啸卷,
卷走了一如既往的诗意。
总想化为火中的蝴蝶,
总想在月光下吟诗,
总想吐出那一份疼痛,
总想看到那一抹新绿。
总想把命运的车轮逆转,
总想春暖花开的时候再见到你。
总想在静的极致里发出哭声,
总想在无你的日子里有你。
总想看到诗意的晚霞,
总想在笑的间隙叹息。
总想放下那一堆词语,
总想揪断觉悟的珠子。
总想定格风中的清凉,
总想打破时光的规律。
总想捣碎生命的无常,
总想再有命运的相遇,
总想驱散轮回的阴霾,
总想看到新一轮旭日。
总想在脊背上添一双眼睛,
总想多一种会心的含蓄,
总想在夜深人静的时候,
品味浪迹天涯的孤独。
总想在江湖飘零的秋风中,
感受那揪心的痛楚。
那个叫觉悟的词其实太累,
就像没有色彩的日子。
一串串的宁静里,
一串串的快乐里,
却没有一串串的你。
其实我也想当一个樵夫,
也想去深山里砍柴,
可以有狼,也可以有虎,
可以有风,也可以有雨,
可以有一切的厄运,
可以有一生的游离,
只要有你。
我还想当一个飘零的侠客,
带着那柄生锈的铁剑,
还有破衣,
还有磨穿的鞋子,
还有难卜的命运,
还有那厮杀后的疼痛,
还有无边无际的孤独,
只要有你。
我其实不想当啥佛陀,
那是别人安排的角色,
我喜欢人间的味道,
喜欢你的歌,
喜欢你的小情绪,
喜欢秋风中吹来的曲子,
喜欢你吹奏的点点滴滴。
倒是眼前的世界依然有你,
它总能牵来阵阵的暖意,
一丝丝微风,
一晕晕陶醉,
一点点的感动,
一抹抹的相契,
也有那一线浅浅的红云,
还有天边大雁的轨迹,
更有那一点醒目的春花,
和那朔风里回响的曲子。
我的诗总是没有结尾,
很像我的生命和觉悟,
也如我心中鲜活的你。
风中的蝉翼渐渐远了,
一如那亘古的叹息。
我总是在别人的病里,
疼痛我自己。
我于是看到了一轮新月,
它正在冉冉升起,
涌动着大痛,
也涌动着大力,
我很想它是再生的你,
却不知是也不是……
――写于2013年12月14日上午。
(选自《野狐岭》,作者:雪漠)
The Harvest Fly of Wind
That was golden Autumn,when thou came,
Cinnamon was swaying in the Autumn wind.
Color rays of sunlight were shining in the sky of that time.
Like boundless expectedness in the mind.
That was frozen Winter,when thou left,
The white world of ice and snow covered in northland,
The earth became fertile ,yet thou slight,
Like terrible drought of another land.
The autumn moon of that year often was recurred,
Where thy sweet laugh was full of the wind,
Whereras heaviness in the heart full of thy laugh,
But there was heavier thing from the bet of fate,
Too heavy, the word of fate mean is,
Like the yellow soil was settled for thousand years.
Thou often wanted to play quiet music of thyself,
With every means to try,
Lightly rhythm thy could not finish playing.
The dust of fate had already covered thee,
Like a butterfly was folded in my book between pages.
With freshness was frozen by airdry,
With trace of flying vanished away,
Only the scent of flower permeated in the sky,
With a wisp of smell of native soil left in the revery.
Lonely days merely left after thou departed,
There is gray haze hung over the whole sky,
With grey things everywhere before my eye,
Filled with words which named nihility,
Without any meaning to this word of dictionary,
For the meaning was buried into the yellow soil deeply,
Like sense of desolation was whistled away,
Whirling away in the fate with poetry.
Always I want to be the butterfly from the flame,
Always I want to chant pomes in the moonlight,
Always I want to express that pain of heart,
Always I want to see a slightly verdure in spring,
And see thee in springtime when flowers bloom again,
Always I try to reverse the wheel of fortune,
Always I want to cry in the summit of silence,
Always I need thee in the time by my side.
Always I want to see a poetic sunset,
Always I want to sigh with smile clearance.
Always I try to throw down that jumble words,
And make prayer beads of enlightenment broken.
Always I want to let cool from the wind eternize,
Always I want to break the law of space and time,
Always I want to smash the fleetness of fate,
Always I want to dissipate the samsara haze,
Always I want to watch the new rising sun blaze.
Always I want in my back have a new pair of eyes,
Always I want to be reserved with knowing smile,
Always I want to experience solitude in the dead of night,
After wandering all over the world.
Always I want to feel the heartwrung pain,
Which drift from one place to another in Autumn wind.
The word named enlightenment is really too heavy,
As if white days without any colors.
There is a peaceful quietness,
With strings of happiness,
But there, everywhere without thee.
I really want to become a woodman,
To chop wood in the deep mountain,
Where may have cruelty tigers, or greed wolves,
Or howling wind, or torrential rains,
Even may have all the misfortune,
And dissociation for my whole life,
But happy with me because of thee.
I also want to be a vagabond knight-errant,
Wandering with a rusty iron sword,
And clothe with rages,
And a pair of shoes which worn out,
And a fickle fortune,
And wound ached after fighting,
And loneliness is boundless,
But happy with me because of thee.
I am really not intend to be the Buddha,
Who is the role casted by common people,
For I prefer the flavor of man's world,
Where has thy songs, thy temper,
And a tune thou played in Autumn wind,
And all the stories from thy music.
In my immediate world as long as thou still be,
The warmth will be blown in gusts from thee.
A trace of fresh breeze,
A series of beauty of scene,
A little emotional moving,
All which make heart-to-heart communicate.
There are kinds of light red cloud in-line,
With a column of wild geese flying in the sky,
And a single red in the midst of thick foliage,
And a bitter north wind howls.
There is no end between my poems,
Like enlightenment of my life,
Like thou live in my heart.
The cicada's wings of heart are flying far gradually,
As if the sound of a forever sigh is travelling away.
I am always living in sickness of others,
And hurt myself again and again,
Then I saw a crescent moon,
Rising up slowly in the east,
With great mercy within it,
And great power within it,
I hope it will be resurrection of thee,
But I am not sure…
――Written in the morning of 14th ,Dec,2013,(from the novel of Fox Mountain, by Xue Mo, translated by Zep, 27th,June, 2015)
雪漠文化网,智慧更清凉!www.xuemo.cn